Hi. I'm Scott Jon Siegel. The following facts are true.
I'm a game designer.
I'm proud to be a part of the Popcap team, working as a Senior Game Designer in their San Francisco office.
Previously I found myself at Playdom, helping launch the critical successes City of Wonder and Gardens of Time. And even earlier I worked on games for Zynga including Word Scramble for the iPhone, and Café World.
I have an itchy trigger finger when it comes to game design, and constantly ruminate on new mechanics and new game ideas, particularly in the still-nascent field of games on social networks. I spoke on the topic at the 2010 Montreal International Game Summit. I think it went well.
I really, really like interaction.
Call it the intersection of game and interface design. Interaction is key, above all else. So I want to create games where every interaction is meaningful; I want to build experiences with definite rule-sets, but with the potential to invite emergent behavior; I want UIs to bleed away and be counted as part of the game; I want to make players re-evaluate their relationships to screens, to controllers, to themselves, to each other. And, above all else, I want it to be fun.
I'm a Bard alumni.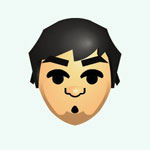 In May of 2007, I received my B.A. from Bard College in New York, where I majored in Literature and the Integrated Arts, with a concentration in game design. My senior thesis focused on the creation of a theoretical academic curriculum for game design, along with a portfolio of games.
I'm married to a pretty cool girl.
It's true! On June 21, 2009 I got married to the incomparable Bonnie Ruberg, former freelance journalist and Ph.D. candidate at Berkeley. Changing my relationship status on Facebook was downright surreal.
I'm living in San Francisco.
I moved to California from the east coast in March of 2008. I like it here, and I think I'll stay awhile.
I love Quiznos.
I know it's weird, and my foodie friends make fun of me for it, but I absolutely adore Quiznos subs. I'll write a blog post about it eventually.
Hey, as long as you're visiting, please feel free to check out my blog, my resume, or any of the other links above.
If you have any questions, or would like to get in contact with me, feel free to send off an e-mail to my first, middle and last name ÄT gmail DÖT com. Thanks for your interest, and have a nice day.
- scottjonsiegel
More of me on the internet: