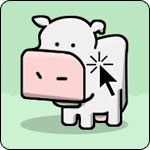 Ian Bogost created Cow Clicker, according to this tweet, as "a Facebook game about Facebook games." And I do get it. It's funny. Ha ha. Okay now but seriously, it could be better.
Ian, if you're paying attention, here's how to improve your Facebook game about Facebook games.
1) Reduce the Click Window: Currently I can only click my cow once every six hours. MouseHunt lets me sound the hunter's horn every 15 MINUTES. And I can cook cheeseburgers in Café World in only five. Procrastination and distraction operate on fairly tight cycles. How often do we refresh our RSS Readers? Our Twitter pages? Facebook? Try a 15 minute window. Let me click my cow every 15 minutes.
2) Make the Stream Stories Actually DO Something: You're spoofing the infamous "Lost Cow" viral, but you've missed why it started a trend. People aren't clicking cows for their health. They're clicking them because they get something for it (namely, a cow). If a newsfeed is not incentivized, it's only valuable as advertising to new players, and a reminder to those who haven't played recently. When incentivized, every player has a reason to click it. Click click click.
Try awarding one Click to each player who clicks a Cow Clicker Stream Story. And while you're at it, award one Click back to the poster for each player who clicked. All your newsfeeds do right now is breach the platform policy (VI.A.1, if you're curious).
3) Prime the Mooney Pump: Paying players are a little like vampires. Once they've tasted blood, it's hard to stop. Wet their fangs with 15 Mooney — enough for one low-level cow, and enough left over to make them want to reach for cooler cows.
You can then keep priming the pump with small amounts of Mooney awarded to players. Create a low instance in which upon clicking, a cow in your pasture will, ahem, "drop" some Mooney. More cows in your pasture means higher chance of Mooney droppings, means more of a reason to invite friends.
4) Send me a Highland Coo: I guess this won't actually help you in any way, but they just look so fuzzy.