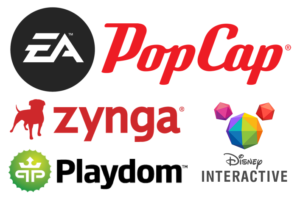 I want to help you make better games, and make your games better.
With over eight years experience in casual, mobile, and social games, I employ a broad set of design and production skills to assist teams in making the best and most successful games possible.
If you're interested or have any questions, please feel free to email me at my whole name with no spaces ÄT gmail DØT com.
Through my consulting services, I offer my knowledge and expertise in the following areas:
Game Design Auditing
comprehensive playthrough & critique: core gameplay metagame first-time user experience monetization overall UX UI design visual direction story and writing 15-20 pages
It's always useful to get fresh eyes on a project that a team has been focused on for some time. By providing me a build, I can perform a teardown of your game in its current state, providing feedback and suggestions around the design of the core gameplay and metastructure, the game's art style, user experience, theme, writing, monetization and the first-time user experience.
The final deliverable will be a document and/or presentation of the game's strengths, and its areas of improvement. Subsequent builds can also be reviewed for followup feedback.
---
Competitive Analysis
core gameplay and metagame analysis new user experience documentation monetization analysis 3-5 pages per game
During the pre-production phases of development, I can provide detailed breakdowns of other titles in the same competitive landscape. These can include overviews of core gameplay and metastructure, documentation of the new user experience, monetization schemas, and analysis of thematic and visual choices made to help these games stand out in the marketplace.
Thorough competitive analysis can assist in dispelling uncertainty around particular design choices. Knowing what's out there can not only inform best practices, but help a team avoid pitfalls and answer critical design questions before entering production.
---
User Testing
advisement on prepping builds for user testing identifying the right questions and goals of testing preparing language and script for testing running tests via usertesting.com or in-person sessions presentation, recommendations, & highlights
There's only so much internal playtesting will tell you about your game. The earlier you can put a build in front of real players, the sooner you can begin evaluating what's working and, more importantly, what's not.
Through of combination of usertesting.com and in-person sessions, I can facilitate several round of hands-on playtesting with users from key demographics. The tests will provide critical data on player understanding of the mechanics, moments of confusion or clarity around gameplay or user experience, and the player's emotional responses to various game aspects (did they feel smart when figuring something out? Do particular mechanics or levels make them feel good, frustrated, uninterested?)
The final deliverable will be both documentation and a presentation of the findings, including highlights from the tests (both positive and negative), as well as recommendations for next steps. All compiled notes will also be included.
Facilitating these playtests also includes training and familiarizing the team with the process, ideally empowering designers and product managers to run future playtests themselves.
---
Development & Production Auditing
evaluation of production process advisement on pre-production goals deep dive on content creation processes for design and art meetings with team members to assess team health, communication, and potential roadblocks review of production roadmap review of design documentation presentation on process strengths, areas of improvement, and red flags recommendations for streamlining production and achieving key milestones
Even the best games can be stymied by tangles in the production process. Every game is a unique beast, and requires its own creative approaches to development. Numerous experiences in developing and shipping a variety of projects across multiple companies allows me to look closely at both pre-production and production plans for your title, and identify areas of concern and improvement.
Is there adequate communication between design, production, art, and engineering? Does everyone know the game they're making? Miscommunication and misunderstandings of the product and its goals can lead to hiccups and bottlenecks in production. At worst, it can cause delays in a game's launch, as well as effect its success and scalability.
Part of this process involves engaging one-on-one with multiple team members across disciplines, to determine where the current process may be obfuscating their ability to succeed. Finding weaknesses in communication lines, documentation, and understanding of deliverables and project goals can allow a team to address problems before they become critical blockers, and help your project ship on time, and at the highest level of quality possible.
---
Contract Design Work
If what you need is a senior designer on your team, I'm also available for short-term contract work (minimum 3 weeks).
Skills:
Gameplay Design Core Loop / Metagame Design User Interface Design / Wireframes Prototype Design and Process User Experience Design Documentation Creative Copywriting
Development Experience:
Tools Experience:
Sketch Principle Flinto Photoshop Affinity Photo Omnigraffle Apple iWork (Pages, Numbers, Keynote) Google G Suite (Docs, Sheets, Slides) Microsoft Office (Word, Excel, Powerpoint) UserTesting.com Confluence JIRA
Email me at my whole name with no spaces ÄT gmail DØT com to discuss availability and rates.