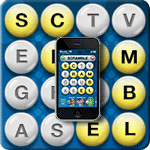 Released March 2009 on iPhone and iPod touch by Zynga
Roles: lead designer, user experience designer
At Zynga, I was given the challenge of bringing the excellent Facebook game Scramble to the iPhone and iPod touch. The final product — rapidly developed with a small, phenomenal team — exceeded internal expectations, and has remained a fan favorite, with new versions persisting to this day (now under the name Word Streak with Friends). The original Scramble Live featured a super-competitive live mode, as well as asynchronous challenges against friends, solo play, and the single-device "Play & Pass" mode. The game synced with your Facebook account, sharing top scores and other stats like each players' longest word.
For more information about my design work on the game, please check out my post Designing Scramble Live