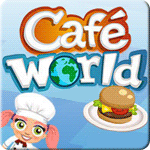 Released September 2009 on Facebook, by Zynga
Roles: game designer, user experience designer
My final project at Zynga was the cooking/restaurant simulation Café World, at one point the fastest growing game in Facebook's history with five million daily active users within one week of launching. I worked in collaboration with a dedicated group of designers, engineers, artists and producers, without whom this project wouldn't have been possible.
I left Zynga before Café World shipped, but I still feel proud of my contributions to the game's collaborative development, the most significant of which being the core mechanic of the stove-based cooking timers (the prototype of which was appropriately titled "Romancing the Stove").
Press: